If you are a farmer, you probably know all about conducting various agricultural tasks; such tasks require farming machinery and tools specially designed for each duty. That is the case with tractors. The reason why today, we'll be telling you all about different types of tractors.
When it comes to farming, harvesting, or all agricultural-related work on a big scale, tractors are an everyday piece of equipment. Therefore many different types of tractors have been produced to meet the needs and demands of farmers.
If you've ever wondered about how tractors work in the agricultural industry and how they contribute to the growing of crops, then today you'll find out all about different types of tractors.
Types of Tractors FAQs
What are tractors and their types?
A tractor is specially manufactured to deliver high torque at a lower speed. It hauls a trailer or machinery used in agriculture, construction, and industrial. The tractor combines two words, "traction and motor." A tractor is used to pull heavy loads for different farming tasks.
Tractors can be classified into three classes based on structural design:
Wheel tractor: Tractors with three of four pneumatic wheels are wheel tractors. Four-wheel tractors are most popular everywhere.
Crawler tractor: This is also called a track-type tractor or chain-type tractor. There is an endless chain or track in place of pneumatic wheels in such tractors.
Walking tractor (Power tiller): A power tiller is a walking type tractor. This tractor is usually fitted with two wheels only. The operator performs the direction of travel and its controls for field operation, walking behind the tractor.
Based on purpose, the wheeled tractor is classified into three groups:
General-purpose tractor: It is used for significant farm operations, such as plowing, harrowing, sowing, harvesting, and transporting work. Such tractors have low ground clearance, increased engine power, good adhesion, and wide tires.
Row crop tractor: It is used for crop cultivation. Such tractor is provided with replaceable driving wheels of different tread widths. It has high ground clearance to save damage to crops. A wide wheel track can be adjusted to suit inter-row distance.
Special purpose tractor: It is used for definite jobs like cotton fields, marshy land, hillsides, gardens, etc. Special designs are there for special purpose tractors.
Why are there different types of tractors?
Farmers perform many agriculture operations, and for each task, the necessary farming machinery and implements are developed. Similarly, according to the farmer's needs and demand, many types of tractors are developed.
What is the main component of a tractor?
I. C. engine
Clutch
Transmission gears
Differential unit
Final drive
Rear wheels
Front wheels
Steering mechanism
Hydraulic control and hitch system
Brakes
Power take-off unit
Tractor pulley
Control panel.
Every tractor is fitted with an I. C. engine; the engine may be carburetor or diesel, but nowadays, almost all the tractors are diesel tractors.
What factors should you keep in mind when choosing a tractor?
Landholding: Under a single cropping pattern, it is usually recommended to consider one hp for every 1 hectare of land. In other words, one tractor of 20-25 hp is suitable for 20 hectares farm.
Cropping pattern: Generally, less than 1.0 hectare/hp have been recommended where adequate irrigation facilities are available, and more than one crop is taken. So a 30-35 hp tractor is suitable for 25 hectares farm.
Soil condition: A tractor with less wheelbase, higher ground clearance, and low overall weight may work successfully in lighter soil, but it will not give sufficient depth to black cotton soil.
Climatic condition: For boiling zone and desert areas, air-cooled engines are preferred over water-cooled engines. Similarly, air-cooled engines are preferred for higher altitudes because water is liable to be frozen at higher altitudes.
Repairing facilities: It should be ensured that the tractor to be purchased has a nearby dealer place with all the technical skills for repair and maintenance of the machine.
Running cost: Tractors with less specific fuel consumption should be preferred over others to lower running costs.
What should you know about a tractor's tires?
The tires are available in many sizes with ply ratings as 4, 6, or 8. The ply rating of tires indicates the comparative strength of tires. The higher the rating, the stronger the tires are.
The tires size 12—38 means that the sectional diameter of tires is 12″ and is mounted on a rim of 38″ diameter. The inflation pressure in the rear wheels of the tractor varies between 0.8 to 1.5 kg/cm2.
The inflation pressure of the front wheel varies from 1.5to2.5kg/ cm2. The useful life of the pneumatic tires under normal operating conditions may be about 6000 working hours for drawbar work.
What is a front axle?
The front axle is the unit on which the front wheel is mounted. This wheel is an idler wheel by which the tractor is steered in various directions. The axle is a rigid tubular, or I-section steel construction pivoted at the center. There are multiple adjustments to the front wheel.
What tractors should you consider for farming?
Row Crop Tractors
Row crop tractors are used in farms wherein farmers plant crops in a row. These tractors are all-around tractors that perform various farming tasks you need to do, Including weed control, leveling, plowing, harrowing, and pulling seed drills. They consist of many benefits like user-friendly, adequate row spacing, comfortable driving, greater ground clearance, ease of steering, easily attached and detached attachments, etc.
Garden Tractor
Generally, more challenging, larger, and more powerful than lawn tractors, garden tractors have significantly more options for installing attachments. With their more expansive mower decks, you can mow more land in less time, and additional features like hydraulic steering and four-wheel drive give them an edge over lawn tractors when it comes to versatility and adaptability. These tractors are a great choice if you need a lawnmower that will withstand heavy use and give you options to work on other farm projects or attach a box blade.
Subcompact Tractor
While the smallest of subcompact tractors are similar in appearance to garden tractors, this is where the similarities end: Subcompacts are much more capable for farm chores, and in many cases, the line between the two classifications is roughly divided by the type of engine they contain. Garden tractors tend to have gasoline engines, while subcompact tractors are usually diesel-powered.
Compact Utility Tractor
Some even come with four-wheel drive and cabs, making them the perfect option if you're a serious hobby farmer that needs a powerful, adaptable tractor that will serve you in all weather conditions, even when the going gets tough. While the power of a com­pact utility tractor is appealing, some jobs might be better-­suited to a smaller and more maneuverable lawn or garden tractor.
Industrial Tractors
As the name implies, industrial tractors are mostly utilized in industry rather than agriculture. These tractors were once known as tuggers.
However, these tractors are primarily used to pull huge loads and are equipped with cranes to lift heavyweights effortlessly. These tractors are not the same as agricultural tractors.
Earth Moving Tractors
Earth-moving tractors must be highly powerful and heavy. And they are available in both tire and track configurations.
An earth-moving tractor can be a lifeline if you're working on a construction site, such as dams or quarries. Furthermore, they move soil to dig holes for basements and construction, among other things, and they are always made to last, even though they are expensive.
Autonomous Tractors
Autonomous tractors are also called driverless or electric tractors that are controlled or operated by artificial intelligence. These tractors could become the wave of the future for agriculture or industry. They utilize the combination of computers, GPS, drone technology, and satellite. Autonomous Tractors avoid the need for human tractor operators. A single operator controls an unlimited number of tractors from a single location.
Military Tractors
The militaries use military tractors for construction and demolition, temporary road building, and other high projects in high-risk areas. The design of Military tractors is the same as civilian industrial tractors. They are manufactured with reinforced tractor frames and undercarriages to withstand landmines and other explosive devices. These tractors are sometimes designed with amphibious or semi-amphibious capabilities. They travel on tracks, wheels, and semi-trucks.
Two-wheel tractors
Two-wheel tractors are the lighter-weight and smaller tractors used for tilling, plowing, and pulling smaller implements such as harvesters, seeding equipment, and trailers. They called walking, single-axle, or walk-behind tractors. These are used in small farms and gardens. The small gasoline engines usually power these tractors, and operators walk behind while using them.
Types of Tractors
This lawn tractor has a full-featured engine that delivers world-class endurance and power. A step above the competition, it is designed to be more dependable and longer-lasting, saving time and money over the long run.
The John Deere Easy Change 30-second oil change system makes changing the engine oil easy, quick, and clean.
Changing the oil is as easy as removing the old oil-filled filter and twisting on a new oil-filled filter. Oil does not need to be drained from the engine.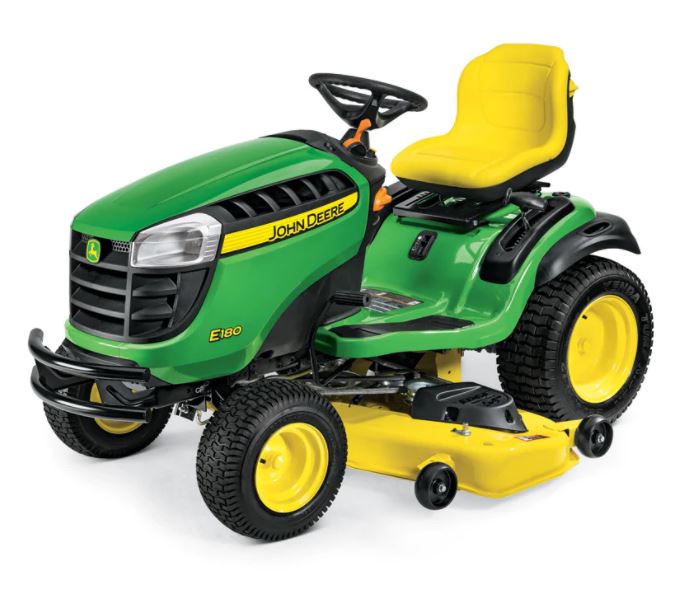 Pin
Features:
The engine is powerful and smooth-running V-twin design
Improved deck lift lever raises and lowers deck easily
The operator station is wide and comfortable
High-value crop applications require pulling implements and harvesting operations over rows of varying widths without damaging the crop.
The 6120EH High-Crop Tractor delivers 77-cm (30-in.) of drawbar ground clearance to protect the plants and roots during applications such as cultivating, spraying, transplanting, and harvest.
The 6120EH Tractor offers front and rear radial tire options similar to the current 6E Tractor lineup. This tire design provides better ride quality, less compaction, and efficiency in converting power to the ground.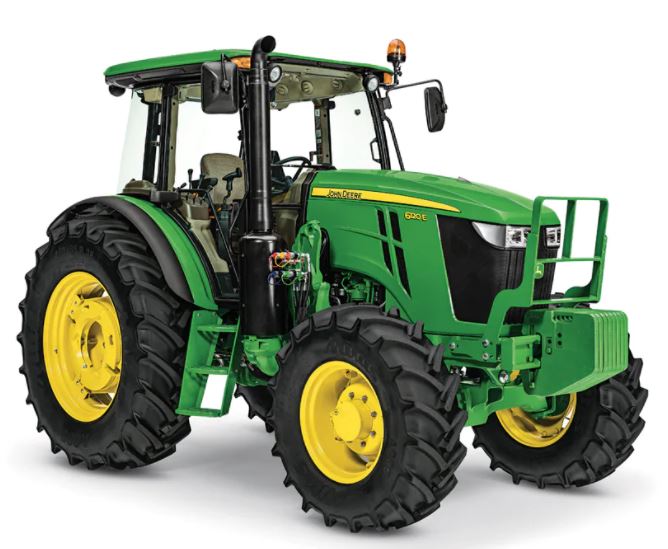 Pin
Features:
Ground clearance and tread settings protect crops
Operate at ultra-slow speeds
Enhanced visibility
8RX Tractors naturally offer excellent in-field rides due to the undercarriage systems' large footprint and independent movement. The lack of power hop also enables a great ride due to the track system.
8RX Tractors are equipped with a four-post cab suspension and air seat that is specifically designed for and only found on these models.
This system reduces high-frequency vibrations typically associated with road transport and allows 8RX Tractors to strike an unmatched balance in ride quality in the field or on the road.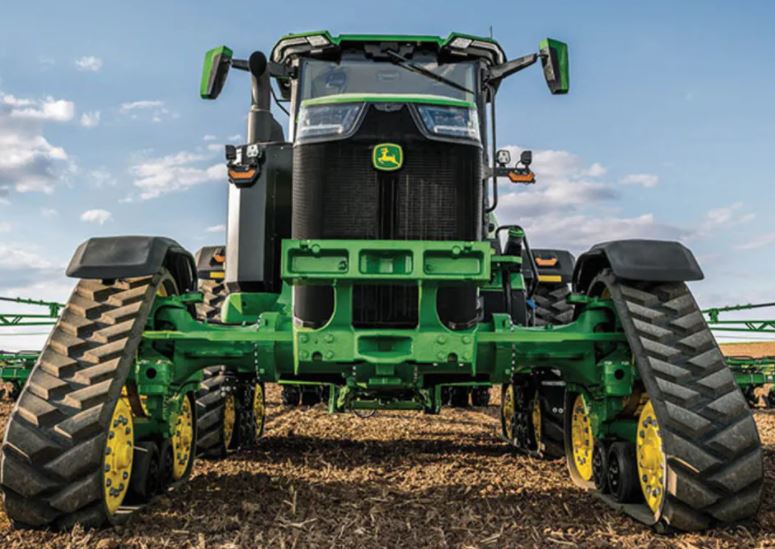 Pin
Features:
Increase ride comfort during all seasons with 8RX suspension
Factory-installed liquid fertilizer capability
Comfort and convenience