As a respectable farmer, you must be aware that your operation needs special equipment, and part of that equipment or machinery includes a corn harvester. While you may never hear about corn harvesting in everyday conversations, these are a must-have piece of farm equipment. The reason why today we'll be sharing with you everything you need to know about a corn harvester.
If you have sown the seeds and watched them grow from cute green seedlings all the way into huge, four- to six-foot-tall stalks, depending on the variety you planted, then harvesting is in your near future. Corn is loaded with fiber, vitamin C, folate, thiamine, magnesium, and potassium, all of which are essential to human health. Plus, there are more than 3,500 different uses for corn.
Choosing the right type or model of corn harvester may sound like a challenging task, especially with many options in the market. But before you make any investments, keep scrolling down to learn what you need to know about the right corn harvester for you and your operational needs.
Corn Harvester Brief History
Before WWII, most corn was harvested by hand. The first mechanical corn harvester was developed in 1930 by the Gleaner Harvester Combine Corporation. Researchers believe corn was developed by natives in Central America at least 7,000 years ago. It is domesticated grass, so it is not found in the wild.
Outside of North America, Australia, and New Zealand, "corn" means any cereal crop. Maize is the more formal and internationally recognized name for corn. Maize is an Indian word that means "sacred mother" or "giver of life."
Corn Harvester FAQs
What is a corn harvester called?
A combine harvester, or combine, is the tool of choice for harvesting corn and other grains. This piece of equipment is called a combine because it combines several jobs into a single machine.
What does a corn harvester do?
A corn harvester is a machine used on farms to harvest corn, stripping the stalks about one foot from the ground shooting the stalks through the header to the ground. The corn is stripped from its stalk and then moves through the header to the intake conveyor belt.
What does a corn harvester cost?
Expect to pay somewhere between $330,000 and $500,000 if you're buying new and paying the list price. The list price for new Case IH combines ranges from $330,000 to $487,000, and that's for base models with no add-ons.
Is there a corn picking machine?
4YZ-3B self-propelled corn harvester combines corn picking, husking, husk chopping, straw returning, and corncob collecting into one unit. With a small turning radius, the harvester is well suited to a narrow road and small patches of corn harvesting. The machine can harvest three rows at the same time.
What is corn used for?
One bushel of corn contains about 72,800 kernels and weighs 56 pounds. The starch in corn can be made into plastics, fabrics, adhesives, and other chemical products. 40% of corn is used in ethanol production.
When to harvest corn?
Milk stage Harvesting
If you want that sweet, slightly crunchy, divine-for-roasting corn on the cob, you'll want to harvest ears at the milk stage.
Predominantly sweet and occasionally dent varieties are harvested at this stage.
The milk stage is when the kernels are filled with milky-sweet sap, and it occurs about 18-20 days after the female silks appear and are wind-pollinated by the male tassels.
Silking usually happens around 50-65 days after sowing seeds, depending on the variety and growing conditions.
To harvest maize in the milk stage, you'll want to start watching it for signs of readiness at around 70-80 days after sowing.
Ears will be green and feel full and firm when you wrap your hand around them, and the silks will have a dried-out brown color.
To be entirely sure the kernels are ready, gently open the leaves and stick your fingernail inside a kernel. You should see sweet, milky sap – not a clear, watery liquid.
If you see the former, you're good to harvest. But if it's watery, cover the kernels back up and give the ear a few more days to mature.
To harvest the ears, grip them with your hand and gently twist or bend them down until they break off from the stalk.
Dry Harvesting
For popcorn, flint, flour, and dent varieties, most growers wait until the kernels are completely dry before harvesting.
That's because popcorn needs a 13-14 percent moisture level to give it that perfect pop.
Flint, flour, and dent cobs are either used for decoration, fed to livestock, or ground into cornmeal or flour.
This maturing and drying process usually takes about 110-120 days.
But it's worth the wait. Plus, it's pretty easy.
All you have to do is wait for the maize to dry completely. The husks, silks, and tassels will all be brown.
The kernels should feel rock-hard, but too much or too little moisture can result in poor popping.
How to use a corn harvester?
After the corn stalks are guided into the gap of the counter-rotating rolls, they will be pulled downwards by the rolls, and the corn cobs will then be snapped off for their large diameter.
The corncobs are conveyed into the cornhusker by the lifting conveyor, while the flail knives chop straps to return to the field.
Husked corncobs fall into the corncob tank while husks enter the corn husks chopping system and are chopped into small pieces.
Chopped husks are discharged from the outlet on the side of the harvester and returned to the field. When the corncob tank is full, the driver can turn it over conveniently to unload the corncob.
Corn Harvester
Match the famous engine, energy saving, environmental protection, strong power, large torque reserve, 12 piece patent fan structure, and speed regulation.
Integral chassis frame structure, the strength is better, the reliability is higher. Hydraulic-driven model, hydraulic drive, the operation is more convenient, reduce the driving fatigue.
Four-wheel drive models, more suitable for soft and wet fieldwork, two-drive and four-wheel-drive conversion convenient, match different working requirements.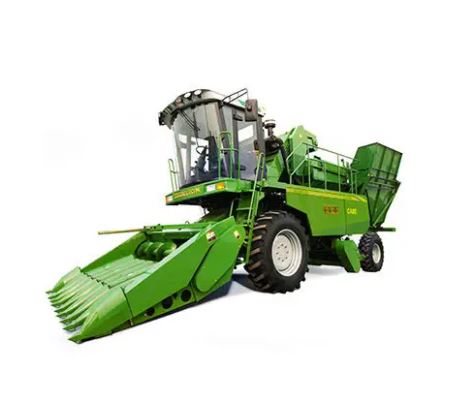 Pin
Features:
Hybrid
118 kW (160 hp)
High efficiency
Half + Half rubber rollers and flat iron combined peeling machine structure; peeling effect are better, the peeling rate is higher. The knife-type stalk roller and plate stem roller can be interchangeable to match different needs of the operation period.
The full hydraulic steering system, light, and sensitive control; optimize the structure of the radiator, using a new type of maintenance-free dust cover, effectively avoiding the engine high-temperature phenomenon.
Optimize the cutting table tensioning slider adjustment mechanism so that the adjustment and maintenance of the reel chain are more convenient. Dropping the header cover stamping ear is beautiful and practical, effectively avoiding the loss of the floor header ear.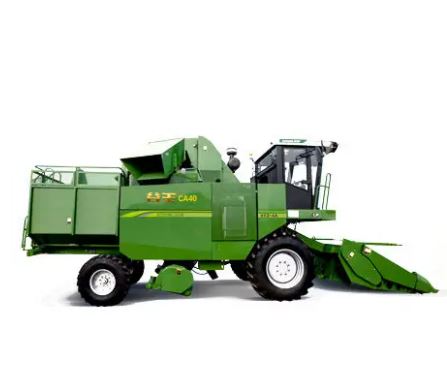 Pin
Features:
Strong power, reliable performance
Advanced technologies
Efficient operation
Comfortable driving and ride
Adopt 4-knife type stalk roll plus cluster picking plate device, efficient stalk pulling, less broken stalks, high reliability, strong applicability.
Adopt a bract-removing device of 4 groups of rubber roller and cast-iron roller sink-shaped lines, elastic conveying of clusters, less loss of kernels, good cluster removing ability, high efficiency. Adopt 12-blade fan and dismountable stalk re-pulling and re-chopping structure, better cleaning, and fewer impurities.
New vibration screen with bract removing device, discharging impurities to the front of the chopper, chopped completely and dropped to the field. It was equipped with a 140 hp 40-cylinder direct-injection supercharged engine, strong power, low fuel consumption, good economy, efficient operation.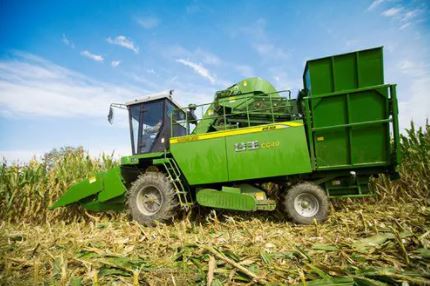 Pin
Features:
High-performance ratio
Good fuel economy
Roller to reduce damage to corn stem
YTO corn harvester or maize harvester is a piece of agricultural equipment used to harvest corn. This machine combines reaping, binding and threshing operations into a single operation, which helps improve working efficiency.
This combine harvester is available in several models to suit different requirements. As its cab protrudes forward, our corn combine provides high visibility.
Additionally, the productivity of our product can achieve 0.93hm2/h, ensuring that you complete your work quickly.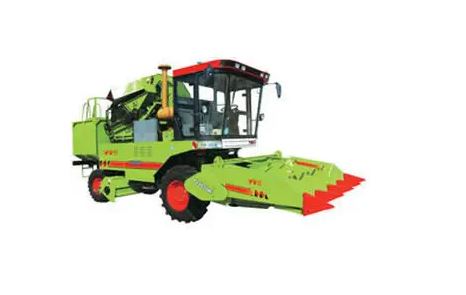 Pin
Features:
Drum threshing
118 kW (160 hp)
Corn, maize
It is a self-propelled corn harvester, compact design, short body, flexible maneuverability, small turning radius, easy to turn around in the field, high harvesting efficiency.
Offering a new dynamic appearance, novel and beautiful; easy to maintain; suitable for different row space and different planting structure, can harvest even not in rows.
The header's reel chain adopts a forced feeding way, can harvest the corn, not in rows, and horizontally harvest. The cutter table uses a double auger-type picking roller, forcefully and quickly to pull the corn stick into the cutter table, not intertwine, not blocking. Have you read about post hole diggers? What about a Bush Hog?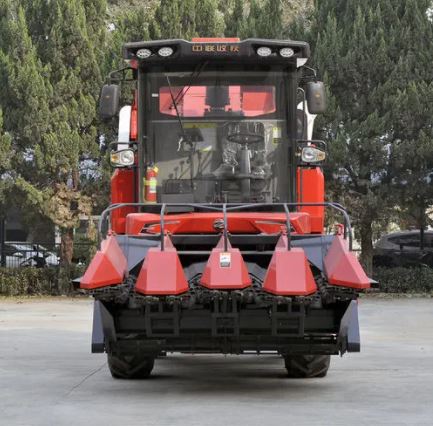 Pin
Features:
Axial-flow
Compact
129 kW (175 hp)