It is no secret that farming life requires different pieces of equipment that make everything run as smoothly as possible. And when you have a few animals on your farm, the chances are that you'll need a livestock trailer. These are essential in the transportation of cattle, horses, pigs, and other farm animals. So today, we'll share what you should know about a livestock trailer.
Towing a livestock trailer is a common practice on most farms and ranches. Livestock trailers, also referred to as stock trailers, are used to move livestock between locations, haul show animals to county fairs, and transport animals to processing plants.
As you can see, a livestock trailer is an essential addition to your machinery set, particularly if your farm exceeds a certain size. Continue reading to discover everything you need to know about a livestock trailer and much more.
Livestock Trailer FAQs
What is a livestock trailer called?
A livestock trailer, also known as a stock trailer, is an unpowered vehicle towed by a powered vehicle, used in the transportation of cattle, horses, pigs, and other farm animals.
What is the difference between a horse trailer and a stock trailer?
The big difference between the two is the size and features. Horse trailers have to drop down the ramp or dutch doors above the ramp on the rear and side. Stock trailers feature a full rear swing gate with no ramp or double back doors with no ramps. Most stock trailers only have an escape door at the front for a person.
What are the main benefits of a livestock trailer?
Easy and convenient transportation: transporting livestock can be a hectic activity. The situation is even more complicated when transporting a more significant number of farm animals. A livestock trailer makes it easy and convenient to move the animals. By using a single vehicle to tow the trailer, the transportation of animals becomes cheaper.
Safety: livestock trailers have interior dividers, well-designed floors, and interior padding, all of which are designed to ensure animals are comfortable when being moved.
Comfort: Apart from the interior padding, trailers are designed to provide plenty of ventilation to ensure animals are comfortable. Even without genuine windows and roof vents, air flows freely in the trailers.
How many cows will fit in a 24-foot trailer?
For example, according to the chart, a 24′ x 7′ trailer can safely haul a maximum of eleven 1,200 pound cows.
How long is a livestock trailer?
Cattle trailers are typically six ft—8 in.
What to keep in mind before using a livestock trailer?
Before using a livestock trailer, check both the truck and the trailer to ensure that they are in good working condition.
Latches and safety chains: Double-check the latches and the safety chains and cables between the truck and trailer to ensure they are fastened securely.
Trailer brakes: Inspect the breakaway cable or brake system. Manufacturers recommend that any trailer exceeding 1,000 lb.
Wheel bearings: Repack the wheel bearings regularly and replace them as necessary.
Electric Wiring and Connections: Make sure all wiring is in good condition. Trailer connectors should match the truck connectors.
Tires: Examine the tires for signs of dry rot, wear, or damage, and make sure that all tires, including the spare and inside dual tires, have the correct air pressure.
Lug nuts: Inspect them regularly to ensure they are correctly tightened.
Trailer: Inspect the trailer floor to ensure it is sturdy and clean.
Battery: If you use battery-powered accessories, ensure that your emergency battery is charged and ready for use.
Brake controllers: Test your brake controllers and make adjustments as needed depending on the weight of your trailer.
How do you load animals in a livestock trailer?
Loading animals into a trailer can sometimes be a frustrating task, but you can take steps to make the task safer and, ideally, easier. For example, lower the back of the trailer as much as possible so that animals may step into the trailer without having to step up. Remember to be patient and calm during the loading process so that you do not scare or stress the animals. Additional recommendations include:
Weight distribution: When using a bumper pull trailer, place the heaviest animals in the front of the axles. Load older and larger animals first, followed by younger and smaller animals.
Ties: When tying animals in the trailer, use slip knots and tie securely at head height in the trailer.
Visibility: Make sure animals can see you when you enter and exit the trailer, when you are in the trailer, and when you tie or untie them.
Squeeze and pinch points: Remain alert to the danger of being pinned between animals and trailer sides and pinched by the trailer gate.
Gates: Once the animals are loaded into the trailer, quickly close the gates and ensure that they are secure.
Protrusions: Inspect the trailer for broken or sharp objects protruding into the trailer. These items should be repaired immediately to prevent an injury to an animal or operator.
Are there any downsides to livestock trailers?
Stock trailers are noisy: Trailers that use screws, bolts, and mechanical fasteners may produce metal on metal scraping noise when in motion.
No bells or whistles. Frequent traveling over long distances may be difficult because trailers do not have facilities for storage or comfort.
Shifting animals. If the animals cannot find a good place to lean against when the trailer turns, speeds, or slows down, they will keep shifting back and forth. This will change the balance of the trailer, making it hard to pull.
What to look for when choosing a livestock trailer?
Frame. Trailer frames are generally made from one of two materials: aluminum or steel.
Steel frames are heavier, so they could require a larger vehicle but also will support more weight. Aluminum frames have one main downside; aluminum welds tend to break in repeated high-stress areas.
The sides. Stock trailers have slatted sides: some with a solid wall at the bottom and slats or tubular metal toward the top and some with slats or tubular metal from floor to roof.
Roof. While bow-top trailers are safe, old or homemade trailers with no top are not, as animals can jump or climb out.
Floor. Trailer flooring is a significant consideration, as a slick or weak floor can lead to a disaster. Wood-plank floors are typical and usually come with rubber mats, as bare wood is slippery when wet. Wood planks can deteriorate and rot and need to be inspected regularly.
Entry. Animals can load into the trailer by stepping up into the trailer or by walking up a ramp. The decision between these two depends on the animals you're moving to.
Doors. Handling doors and latches on the trailer are dangerous, as you don't want to put yourself between the animals and the door or between the door and a fence.
Livestock Trailer Options
With a steel frame and galvanneal steel exterior, CM's Stocker is perfect for your cattle's needs.
With lengths of 14′ to 16′, widths ranging from 5′ to 6'8″, and a height of 6'6″, the Stocker features a 2″ forged coupler, Dexter Spring Axles, silver mod wheels, forward self-adjusting electric brakes on all wheels, and sealed L.E.D. liL.E.Dg.
The load area features interior tie rings (2 in front, two at center gate) and a 1″ square tubing center gate w/ spring-loaded holdback and slam latch.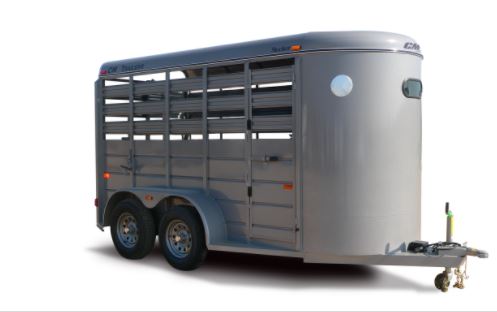 Pin
Features:
All-steel frame
Tag bracket
Rubber-mounted optical window in front
CM's Roundup is a cattleman's dream with a solid steel frame and galvanneal steel exterior.
The Roundup comes in lengths of 16, 20, and 24 feet, and with a width of 6'8″ and a height of 6'6″, you will be able to haul your animals anywhere.
The load area includes a drop-down calf gate at the front, interior tie rings (2 in front, two at center gate), and a 1″ square tubing center gate w/ spring-loaded holdback and slams latch (24′ has 2).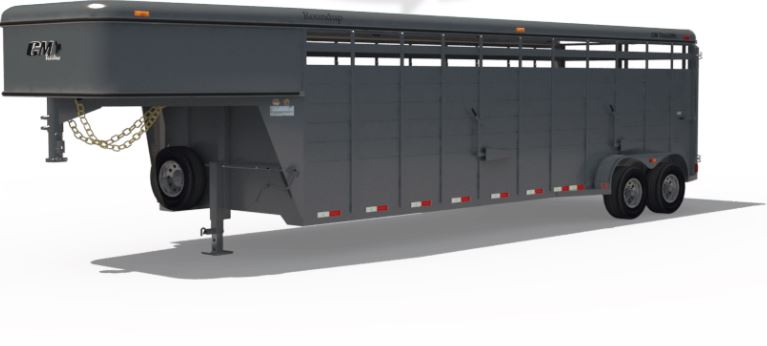 Pin
Features:
Heavy-duty 2″ x 5″ tube steel low profile gooseneck structure
Greaseable exterior hinges
16 Gauge galvanneal running boards
With an all-aluminum build, the Stocker AL-V is as durable as lightweight. Easily accommodating all your animals, the Stocker AL-V is 16 ft. in length, six ft. Eight in. wide and seven ft. tall.
With a 2-5/16″ forged coupler, rubber torsion Dexter Axles, silver mod wheels, spare tires & wheel, sealed L.E.D. liL.E.Dg, and forward self-adjusting electric brakes on all wheels, your animals will not only travel in style but in comfort too.
This model also features a V-Nose, full-height double-lined internal front sheet.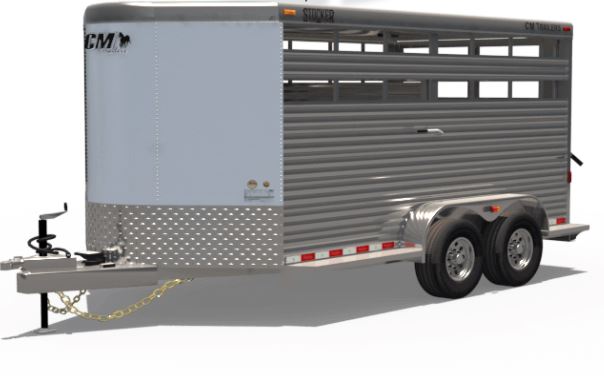 Pin
Features:
Full-length aluminum running boards
Rubber dock bumper below rear door
Tag bracket
Featuring all-aluminum construction, CM's Roundup AL is as powerful as stylish.
The Roundup AL can easily accommodate your animals, ranging from 16 to 28 ft. in length. 6'8″ wide and 6'6″ to 7′ tall.
This model comes standard with rubber torsion Dexter Axles, a 2-5/16″ adjustable gooseneck coupler, silver mod wheels, a spare tire & wheel, sealed L.E.D. liL.E.Dg, and forward, self-adjusting brakes on all wheels.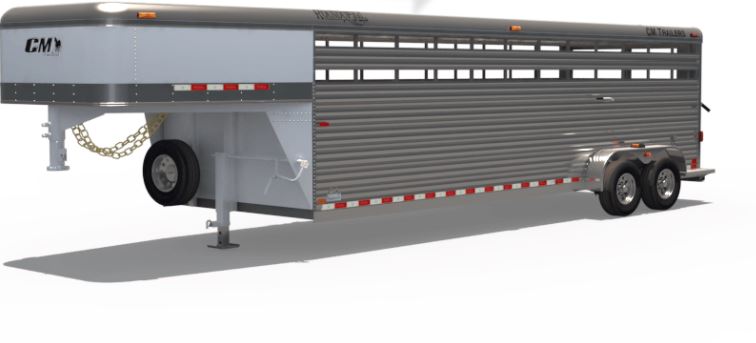 Pin
Features:
9″ Extruded aluminum bottom rail
Tapered nose with w/radius corners
12″ Aluminum plank floor
The Brush Buster ES' load area features a center gate with spring-loaded holdback and slams latch with interior/exterior release.
Also standard are the double swing in and out butterfly rear gates with a vertical and horizontal locking system.
Optional features include aluminum wheel upgrades, a spare tire and wheel, dome lights, and a tarp.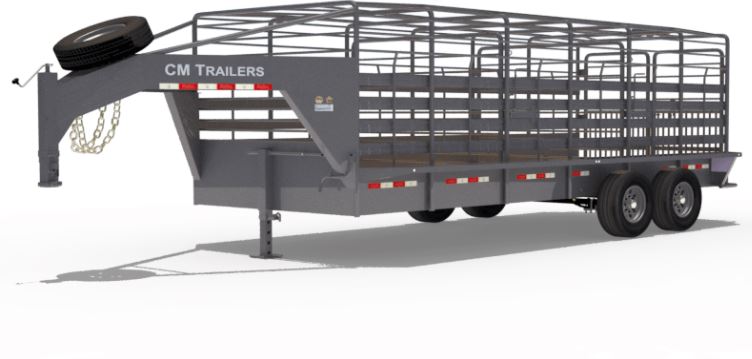 Pin
Features:
One 5/8″ Steel pipe bumper
Steel gooseneck structure
Treated wood floor