When you think of a machete, the most immediate image that comes to mind is a long-handled knife with a near to equally long blade. You may not know this, but different types of machetes are made for specific uses. The reason why today we'll be sharing with you essential knowledge about types of machetes.
Machetes combine the chopping power of the hatchet with the finesse of a knife. The machete is helpful when it comes time to harvest crops. The crops one uses a machete to harvest typically include oats, buckwheat, barley, millet, rye, corn, sugar cane, rice, and more. You can also use a machete to prune and perfect the landscaping around your home.
These cutting tools are designed to excel in the agricultural, construction, and gardening industries. But with so many different styles of machetes intended for other tasks, how do you know which one to pick. Check out below some of the basic types of machetes and their uses.
Types of Machetes FAQs
Are there different types of machetes?
Machetes come in all shapes and sizes. Throughout its long history across the many rural areas of the world, the machete has evolved many styles, features, and adaptations for specific uses and environments. Names and types vary from region to region and often overlap, and you may hear the same machete called by different names in different areas.
What type of machete is best?
Preferences for one style over another are generally subjective and, like many other things, mainly based on region, tradition, and experience. When selecting a machete, the most important thing is what feels right to you.
What do you use a machete for?
The machete has numerous survival applications from brush clearing to wood chopping, quartering game, and even defensive purposes if it ever came to that. I keep one lashed to my Bug Out Bag in addition to a hatchet to cover any chopping needs I may have. They can be used for just about anything.
Other popular uses of machetes include; coppice trees for firewood, charcoal, or other services. Remove invasive plants. Trim overhanging branches that tangle fishing lines. Use a general utility tool to cut line, ready lures, open bottles, and gut fish.
What is a Latin machete?
Bush or Latin-style Machetes are popular all-purpose machetes with a standard, straight-back blade. The blade tends to be evenly weighted and relatively stout. It is very portable; it can be fitted with a sheath easily for carrying around. Place of Origin: Latin America.
What is the world's longest machete?
Imacasa 28 Inch Guarizama Machete. The guarizama features a reasonably light blade, evenly weighted, with a pointed end. At 28 inches, this blade is one of the longest made. Imacasa machetes and cutting tools are designed to excel in agriculture, construction, and gardening.
What are the most common types of a machete?
Baron Machete
Barong machetes are known for their unique leaf-shaped blade, which is traditionally only sharpened on one side. The traditional cutting tool of certain tribes in the Philippines, the barong was feared by European colonizers for its ability to cut through rifle barrels.
Billhooks Machete
The billhook machete is an ancient agricultural cutting tool with a curved blade. These are generally used for cutting around small woody materials, such as grapevines, shrubs, and branches. Also used for hedge construction and maintenance.
Bolo Machete
The bolo machete is popular in Southeastern Asia, commonly used as a farming and agricultural tool. The bolo machete excels as a harvesting tool for narrow row crops, such as rice, soybeans, peanuts and mung beans due to the distinctive bulge, adding a heft to the fore-blade that provides additional chopping power.
Bowie Machete
The Bowie machete features a clip-point or skinner tip for skinning wild game. This style is named after American frontiersman Jim Bowie and is popular amongst survivalists and backwoodsmen. The distinctive skinner tip makes it the perfect utility knife for woodsmen and hunters.
Bush Machete
A popular all-purpose machete with a normal, straight-back blade. The blade tends to be evenly weighted and relatively stout. It is very portable; it can be fitted with a sheath easily for carrying around. Suitable for cutting green vegetation and as an all-purpose utility tool.
Cane Machete
Wide, blunt-tipped machetes are perfect for hacking corn stalks and sugar cane. Often the blade is hooked to allow the user to pull the chopped cane from the plants still standing. Typically used for cutting sugar cane, rice, bamboo, and corn stalks.
Colima Machete
Sharpened on both sides of the blade to allow for a sweeping cut motion on both the fore and backhand strokes. Colima machetes are typically weighted on the backside to aid in clearing the backstroke.
Hawkbill Machetes
A curved or hooked machete that can be sharpened on both sides or on the inside of the curve. The sharpened tip concentrates force on a sharp point allowing it to pierce and cut tough materials, while the inner curve facilitates the reaping and collecting of stalked vegetation.
Kukri Machete
Kukri has 3 parts to their blade, a pointed tip for stabbing, a wide midsection for chopping, and a narrow area near the handle for whittling and carving.
Panga Machete
Machete design is popular in Africa and the Caribbean. The deep belly provides weight for chopping and curvature for slicing. The upturned point can concentrate force on a small area for piercing.
Paranga Machete
Parang machetes, also known as Golok machetes, generally have a distinctive curved shape. They tend to belong and are either slightly weighted or fairly evenly weighted, and usually have a thick blade.
Weighted/Heavy Machetes
Considered the workhorse of the machetes. The heavy or weighted machete has the bulk of the weight towards the top of the blade to make chopping thick and woody vegetation easier.
What features are there in all types of machetes?
Sawback. Certain machetes will have teeth on the unsharpened backside of the blade. The manufacturer will depend on how far it extends down the blade, but its main purpose is to see through tough vegetation. The teeth can also be used to pull branches out of your way or drag away brush.
Lanyard hole. Those who don't know much about machetes might wonder why you need a lanyard hole since it's too heavy to attach to your keys. The real reason for a lanyard hole is extra security. The idea behind the lanyard on a machete is to wrap it around your wrist, so it doesn't fly out of your hand when you're swinging it.
Hook. The hook has a sharpened inside that makes slicing through tough vines and branches a breeze. It can also be used to grab and pull brushes if needed.
Machete quillon. The quillons are a method to provide extra security to the grip while wielding a machete. A quillon is a protrusion between the blade and handle of a knife designed to prevent the hand from sliding onto the blade.
Knuckleguard. The knuckleguard is yet another method for keeping the machete firmly in your hand. The knuckleguard may also be used to protect the hand against branches.
Two-handed handle. The primary purpose of the longer handle is twofold; a longer handle allows for an extended reach and better leverage when swinging.
Fuller. Also known as blood grooves, the fuller is a groove near the spine of a blade designed to reduce the weight of the blade.
Types of Machetes
Black Ka-Bar Kukri machete is ideal for chopping down weeds, clearing a campsite, or cutting small branches.
The machete is equipped with a 1085 Kukri-style carbon-steel blade that excels at chopping and basic field use, along with an ergonomically shaped Kraton G thermoplastic elastomer handle with a non-slip grip.
The Kukri measures 17 inches overall with an 11-1/2-inch blade and comes with a black leather/Cordura combination sheath.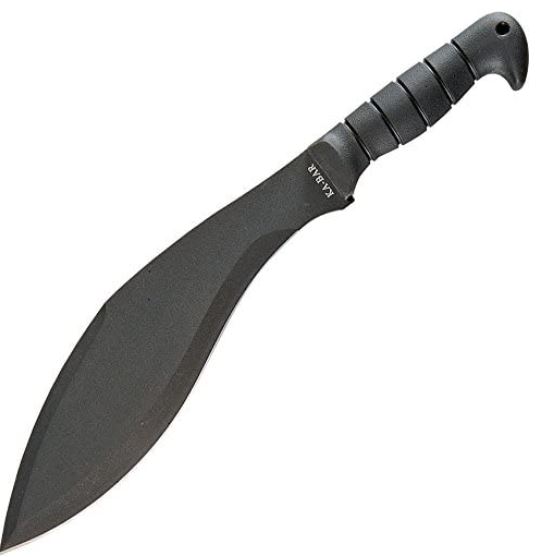 Pin
Features:
Carbon Steel
Rubber Handle
11.5 Inches
AThe Gerber Gator Bolo is a traditional jungle tool updated for modern utility; the Gerber Gator Bolo is modeled after a classic shape used for generations in the Philippines to clear vegetation, chop food, and cut wood.
Gerber's updates include an ergonomic handle shape, slip-proof grip, and hefty complete tang construction for year after year toughness.
Designed to withstand serious cutting and make short work of everything from tall grass to small tree limbs, the stout, burly blade has a distinctive bulge near the front for added power in the swing. One part hedge trimmer, one part ax, 100% business.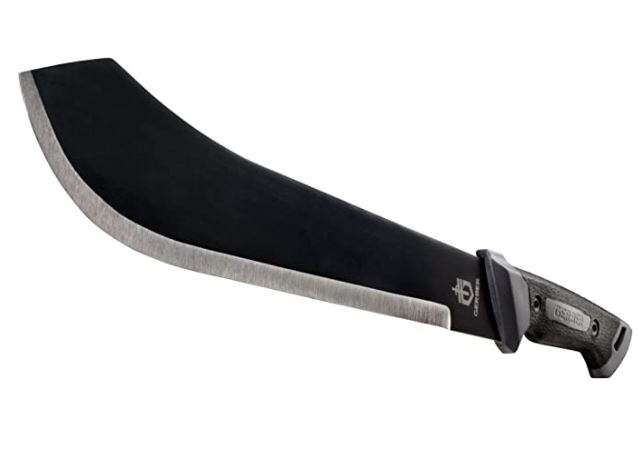 Pin
Features:
Carbon Steel
Ergonomic handle shape
22 Inches
Full tang construction
A high-quality multifunctional machete is made from 440C serrated stainless steel, which provides super sharp cutting performance and high durability, while the saw handle of the machete is covered with rubber for comfortable and continuous usage.
AThis solid and practical holder is always near when you need it: this solid and reasonable holder allows you to safely wear the Brush Clearing machete on your belt. The multifunctional sheath is made of heavy-duty nylon Cordura fabric.
It is an ideal survival tool for camping, hiking, hunting, boating, sailing, fishing, or other emergencies. SHunters should acquire such EDC tactical gear campers, preppers, backpackers, or any true outdoors people.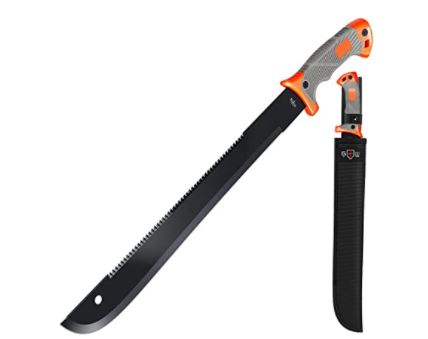 Pin
Features:
Stainless steel
18,5 Inch
Multifunctional
This 14 inch Steel Sickle Billhook Machete is made of imported Japanese steel and comes with its fine serrated, curve-sharpened blade.
DIt is durable and top quality, easy to use, and heavy. Perfect for harvest, farming, gardening, weeding sickle billhook machete.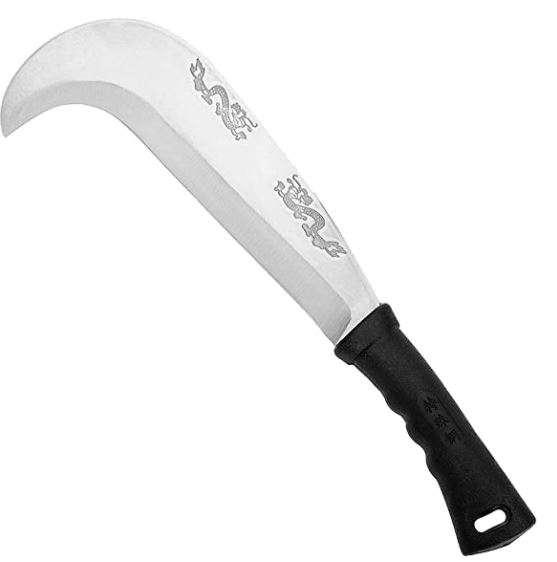 Pin
Features:
Heavy Duty
14 inch
Curve Sharpened Blade
The blade is constructed of 3CR13 stainless steel with a refined edge for a dependable cut in all situations.
Features the new, no-slip H-Grip on the ergonomic handle that turns tacky when wet to ensure a secure grip in all conditions.
The blade features a balanced design for cutting fresh vegetation and the handle features a peg hole for hanging and storing when not in use. The belt sheath is constructed of polyester with a plastic liner to protect the blade in rugged or wet conditions.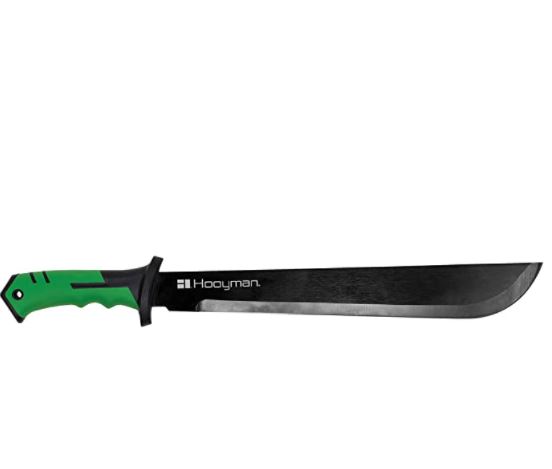 Pin
Features:
100% Steel
Ergonomic handle
Handle
So many options, right? All farmers should also have a post hole digger and know everything regarding a baler machine or knowing how does a combine work?