When you are running a farm, there are different pieces of equipment that make everything run as smoothly as possible. Part of that equipment includes a trusty box blade, which helps you diligently to tend to your land. So today, we'll share what you should know about a box blade with you.
For tough jobs maintaining your farm, building sites, or landscape, box blades offer to help you move and rip up dirt, grade and level land, or spread soil. This is accomplished thanks to its rugged, strong ripper shanks. Box blades come in various sizes to meet your needs.
As you can see, a box blade is an integral addition to your machinery set, particularly if your property exceeds a specific size. Continue reading to discover everything you need to know about box blades and how these can help you increase your productivity.
Box Blade FAQs
Can a box blade be attached to a tractor?
Box blades are one the most universally useful 3-point tractor attachments available. Box blade attachments are used for leveling the ground, ripping dirt, repairing or maintaining gravel driveways, moving dirt, or digging a ditch. They're easy to hook up to a tractor and easy to learn how to use, too.
Are all box blades the same?
Not all box blades are the same. First, measure your tractor's width and get a box blade that's slightly wider than the tractor tires. When buying a box blade, also look for clevis hitches instead of pin hitches since they are typically stronger. Once you've picked out a box blade and brought it home, familiarize yourself with how your box blade attaches to your tractor's 3-point.
What size box blade do I need?
Most people only need your standard 3-point box blade attached to the trailer with your 3-point hitch. This is an unpowered attachment that can do all the digging, leveling, backfilling, and grading work you need for your project.
However, the answer to the question of size depends entirely on your unique needs. To get the right box blade for you, start by looking at your rear tires. Typically, you will need at least one hundred pounds of Box Blade width for every twelve inches of rear tire width.
What is a box blade used for?
It's used primarily for spreading material like soil or gravel and for grading, leveling, or backfilling an expansive land area for a driveway, lawn, garden, building site, etc.
What is the difference between a rear-angled blade and a box blade?
With the rear-angled blade, you can angle the blade and change the pitch of the blade from side to side. Common Uses for this are grading, making roads, driveways, that kind of thing. Also, work well for blading snow, moving light materials, that kind of thing.
The box blade is designed to grade and be smooth. Also, it has scarifier teeth on the front, which allow you to break up hard ground, like rutted, hard driveways. You can break up the ground, as well as smooth it. You also can push dirt both forward and backward. It has cutting edges front and rear, but it is overall a heavier blade so that it will cut more. The rear-angled blade is better for softer, lighter materials. It will cut a little bit, but not as much as the box blade will.
Can you clear land with a box blade?
Once you've used the grapple attachment to clear away the bulk of the trees, vines, and bushes, you'll want to use your rear blade or box blade to level out the area you have cleared.
How to use a box blade for beginners?
Once your box blade is hooked up, it's time to get started. Great first projects to learn how to use a box blade are leveling a driveway or digging a ditch.
Make sure it's level. Put a level on top of the box blade and adjust it to make sure that it's flat before you get started.
Leveling a driveway
If you're redoing your driveway, drive back over the center of the road with the blade down to level the crown.
Once you've finished flattening the top, adjust the box blade pins to give the blade an angle.
You will want a slight angle on both sides of your driveway to help with drainage because if it is flat, water will collect and turn those spots into potholes over time.
Go back over the driveway on one side, creating a downward slope towards the edge of the road.
After finishing grading that side of the road, adjust the box blade so that it's angled on the other side, then go back over the road one more time.
Your driveway should look like it's brand new once you finish going back over the other side!
Digging a ditch
If you're digging a ditch, all you have to do is set the box blade at an angle and drive forward over where you want to place the ditch. Have you read about post hole diggers?
The ripper jacks should dig into the ground and create a nice ditch that will drain efficiently.
If you need steeper walls, adjust the angle of the box blade so that the ripper jacks dig deeper into the ground and go back over it a second time.
Repeat this on the other side to create a V ditch.
Box Blade
Heavy-duty box scraper with blades and shanks. Features rippers that are easy to adjust and are reversible.
This 6-foot box blade will be a great addition to your farm or garden. The scraper features five reversible high-carbon shanks capable of moving dirt, adding backfill, or grading soil.
Each ripper measures 1/2 inches x 6 inches and can be moved into three different positions. It can be used by professional and home use and by landscapers, gardeners, and farmers. It easily connects to a 3-point category one hitch.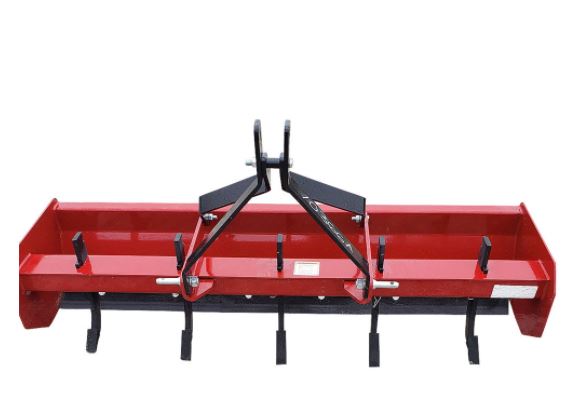 Pin
Features:
Shanks can be reversed
6 feet
High-carbon shanks
Perfect size for compact tractor. Most steel is 3/16," and 3/8″, except for square channel and back are 1/8″ and rippers are 3/4″.
Continuous good welds all around joined metal. Replaceable flat blades front and rear dig into gravel with ease.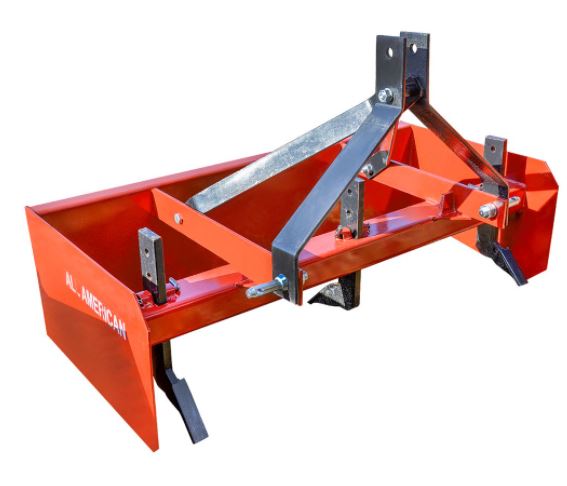 Pin
Features:
4′ Box Blade
3-Point Hitch with Shanks
319 lbs.
With five scarifier shanks and a reversible metal blade, this box scraper is a must-have tool for every landscaper, farmer, and gardener.
This rugged tool can handle every landscaping need, from digging ditches to grading land and moving dirt. It connects right to your 3-point hitch for convenience.
At 6′ long, this box blade can handle your most challenging landscaping projects. Hook it right to your 3-point hitch and get it started. It's ready to move dirt, spread manure, or level land. It has a reversible 1/2″ x 6″ high-carbon steel blade to handle a lot of action.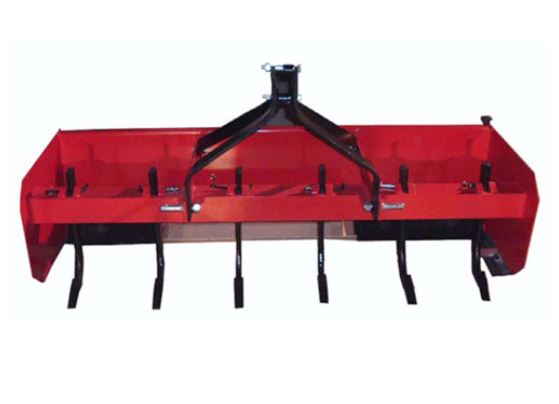 Pin
Features:
6 foot long
Reversible blade and five shanks
Category 1 lift pins
With its reversible 1/2″ x 6″ high-carbon steel blade, this powerful workhorse can perform twice as many duties as ordinary box scrapers.
It also has boxed ends, so dirt will remain inside the box, preventing leakage. Hardened steel tips ensure that the scarifier shanks can easily penetrate even compacted soil.
Designed to work hard, this box blade has a reversible high carbon steel blade and five penetrating shanks for superior performance.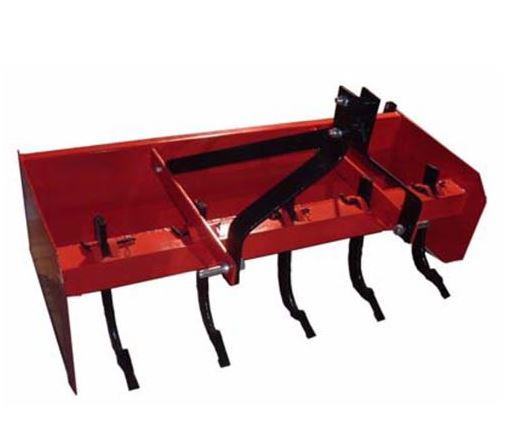 Pin
Features:
5 foot long
High-carbon steel blade
This box blade scraper by KODIAK is six ft. long and has five ripping shanks. Constructed with solid welds and heavy-duty steel, this box blade will help you loosen and move soil for leveling and clearing.
The box blade is constructed with solid welds and a 1/2 thick end plate for maximum soil and rock management.
This box blade comes with five heavy-duty ripper shanks. The shanks are height adjustable and can be reversed.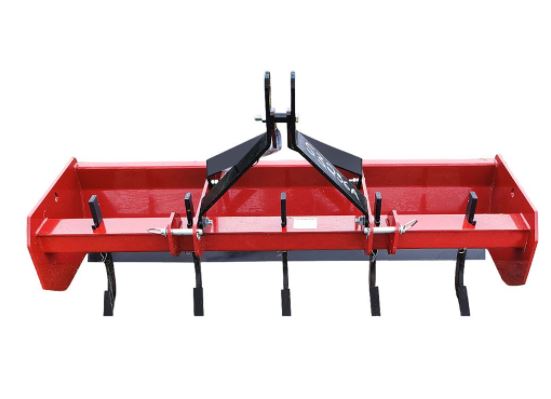 Pin
Features:
Heavy-duty a-frame arms
Shanks are height adjustable
Solid weld construction