Do you wish to know about baler machine types; we hear you. While you may never hear about baling machines in everyday conversations, these have multiple uses, including in the agricultural field. The reason why today we'll be sharing with you everything you need to know about baler machine types.
Industrial baling waste or recyclable material is compressed, but did you know there are different baler machines? Baler machines also allow agricultural products and wastes to be baled not just for space reduction but also to preserve their intrinsic value.
As you may imagine choosing a baler machine for your specific operation can seem challenging. The choices for baler machines are numerous in the market. But before you make any investments, keep scrolling down to learn what you need to know about baler machine types and which would be best for your pocket and your production needs.
Baler Machine Brief History
The 1900s saw the introduction of mechanical balers. In 1936, the first automatic baler, the round baler, was invented by George Innes. It had a self-tie system that used Appleby-type knotters from a John Deere grain binder. In 1939, Ed Nolt patented a modified version of Innes' baling Machine, which was more reliable and became the standard. The round baler continues to be the most common type of baler used today.
Modern balers are descendants of hay presses, invented in the mid-nineteenth century, that made it easier to gather and stack hay. The earliest hay presses were stationary units built into a barn and extending two to three stories into the hayloft.
Baler Machine Types FAQs
What is a baler machine?
Balers are machines used in the recycling process. Balers all work in basically the same way. A recyclable commodity like cardboard, aluminum, plastic, paper products, shrink wrap, tires, or non-ferrous metal is loaded into the baler chamber.
How many types of balers are there?
The many types include vertical, horizontal, auto-tie horizontal, closed-door horizontal, and two rams. The most common type of baler is vertical, where waste material is crushed using downward force.
Vertical Balers
Vertical balers are one type of industrial baler used in the compression and binding of materials to ease the process of handling, storage, transportation, or recycling. Vertical balers tend to be more compact than horizontal balers and are used in facilities that produce lower amounts of waste and deal with materials that are light in density and volume.
Horizontal Balers
Horizontal balers are one of two main structures industrial balers use to compress waste materials or byproducts to improve the ease of handling, transportation, storage, or recycling. The style of industrial baler is differentiated by the way material is loaded into and travels through the Machine, either horizontally or vertically.
Industrial Balers
Industrial balers, also known as industrial baling machines or industrial baler machines, are generally large equipment utilized by automotive, plastic product manufacturing, industrial manufacturing, retail, food service, education, oil, and agricultural industries every day. Usually made of steel, they are used to convert materials into bales for shipment and disposal, recycling, and/or secondary processes.
Single Ram Balers
Single ram balers produce compression using a single hydraulic cylinder. This is the most common type of balers used for material recycling. This type can be horizontal or vertical, depending on the orientation of the ram. Horizontal, single ram balers can be divided further into closed-end and open-end extrusion balers.
Closed-end (closed-door) balers: These compact materials use a single ram against the chamber door. After compaction, a chamber door opens to release the bale.
An open-end extrusion baler compresses the materials through a long extrusion chamber. This is often called continuous horizontal baling.
Two Ram Balers
Two ram balers, also known as two-cylinder balers, are baling machines that compress material using two hydraulic cylinders. Like the single ram balers, these can be vertical or horizontal in orientation. Two ram balers usually produce denser bales than single ram balers. These machines are more suitable for compacting high rebound materials such as rubber.
Liquid Extraction Balers
As the name suggests, liquid extraction balers compact materials and drain liquid from them. This capability is handy for baling rejects from food, bottled, and brewed goods production. The main difference between liquid extraction balers from other types is the materials used for their construction.
Ferrous Balers
These types are primarily used in scrap metal processing. These consist of two or three rams that are designed to handle heavy materials like metals. The two-cylinder ferrous baler consists of a pressing lid or a wing door that compresses the metals and the main ram. On the other hand, the three-cylinder ferrous baler compresses the metals in all directions.
Shear/Baler/Logger or SBL
In this Machine, the materials are compressed to form a log shape compacted material which is then cut to length by shearing or compacted further by another compression forming a bale. Since these machines produce sheared logs aside from high-density bales, SBLs are also called scrap shears.
Round Baler or Tractor Baler
This type of baler is used for baling agricultural products. Round balers are usually pulled by a tractor which collects forage through the field. As the tractor gathers the forage, these are conveyed into the baling chamber, where a series of rollers and belts roll the materials. When the required density and dimensions are reached, an automatic wrapping mechanism is triggered, wrapping the rolled material in mesh netting. After wrapping, the baler opens and releases the round bale.
Square Balers
The basic concept is still the same, with tines that pick up the loose hay and feed it into a chamber, where a plunger moves back and forth, compressing the hay into a rectangular chute. From there, twine or wire is wrapped around the compressed hay and periodically tied off and cut, and the process continues.
How to choose a baler machine?
Balers are chosen depending on the type of material to be baled, material loading methods, required purity, required dimensions for transport and milling, and throughput.
How is a baler machine conformed?
Hydraulic Cylinder: This part exerts the required force to compress the material. The working fluid is pressurized by positive displacement pumps to achieve the necessary compression.
Ram: Attached to the hydraulic cylinder is the ram. The ram is the part that presses against the material.
Hydraulic System: This includes pumps, hoses, fittings, and valves. The hydraulic system supplies the required actuation of the cylinders.
Oil Filter: The oil filter maintains the cleanliness of the hydraulic system. As the oil ages, deposits may form that damage the hydraulic fittings and pumps.
Motors and Other Electrical Components: Motors, wires, conduits, and cooling fans. The motor drives the pump, usually coupled by a gearbox.
Proximity Switches and Other Sensors: Sensors may include proximity switches, photo-eyes, limit switches, or linear potentiometers.
Control System: This is where the operator enters commands. Programmable logic circuits or PLCs usually control the hydraulic system.
Bale Chamber: The bale chamber encloses and shapes the bale. Bale chambers are made of thick steel that can withstand pressures acted by the compression of the material.
Hopper: Hoppers aid in the collection of materials for baling. This part also increases the area of the chamber opening so more materials can be fed.
Conveyors: Conveyors are used for material feeding at a lower elevation. This eliminates the need for more giant cranes that are usually needed to reach the height of the hopper.
Pressing Lid: This part is present in ferrous balers. The pressing lid acts as a pre-compression ram upon closing. After achieving the desired pre-compression, the pressing lid locks in position.
Tip Pan: This is a common pre-staging machine integrated into the baler. This part aids in the loading process by being a staging hopper where the materials are initially loaded.
Ejection Rams or Arms: After compression, ejection rams remove the baled material from the chamber.
Automatic Tying Mechanism: This is one of the integral parts of an automatic baler machine. When the bale is wholly compacted, mechanical systems wrap tie wires around the bale.
Bale Ties: These are wires or straps that wrap around the bales to prevent them from becoming loose after compaction.
Galvanized Wire: This is a type of wire finish in which the wire is coated or dipped in a bath of molten zinc.
Black Annealed Wire: This type of finish where the wire undergoes an annealing process. The wire is heated and cooled for a specific rate making the wire more flexible and ductile.
What are the most common uses of balers?
Steel Recycling: Balers are used for compacting steel cans, aluminum cans, steel sheets, radiator caps, copper wires, and clips. A two-ram baler is enough for lighter metals such as cans and sheets.
Corrugated Cardboard and Paper Recycling: Balers are used for materials such as cardboard, office papers, magazines, newspapers, and so forth. An average office worker produces about 2 pounds of paper products per day.
Plastic Recycling: This includes PET and HDPE bottles, plastic films, rigid PP containers, tough and flexible PVC materials, electronic and automotive plastic scraps, and so on.
Foam Recycling: Foams are light materials with low densities, taking up much space when stored. Some foams, such as most polyurethane foams, are thermosetting plastics.
Textile Recycling: This includes used clothing, carpets, rugs, wool, and other fibrous materials. Baling textiles is different from baling other materials such as steel and plastic since it uses less force but requires the process to be clean and stain-free.
Agriculture: Balers are used in compacting animal fodder to help control moisture and retain nutrients. Balers initially emerged as a solution for bundling and storing haystacks. The concept is then applied to scrap material handling. Round balers are the most common for animal forage baling.
Baler Machine Types
The MONDIALE model combines robustness and technology solutions of superior models to the convenience and simplicity of a fixed chamber round baler.
The bottom opening lower, the central lubrication system, the binding system with high efficiency, and practical monitor electrical control make this Machine a professional model with high efficiency.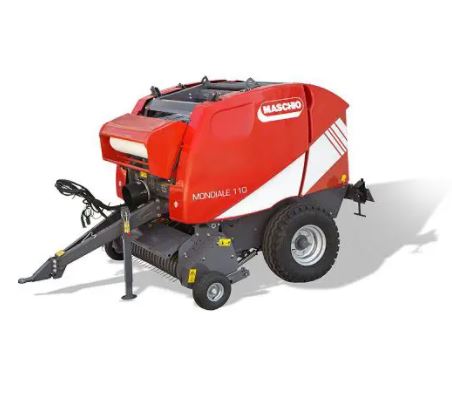 Pin
Features:
Round baler
Fixed chamber
The baler produces 60-80 kg bales with an output capacity of 40 bales per hour. A single person can handle this Machine along with two assistants. Its easy-to-operate features with a quality output of small size make it best suitable for small farmers and entrepreneurs who cater to small farmers' markets.
The Machine is designed to produce quality bales of weight 60-80 kg and size 500 mm x 500 mm (diameter x height) based on scientific methods.
It is a hydraulic operated machine that can achieve a compression of up to 650 kg/cm3, which is comparable to any big-sized commercial baler.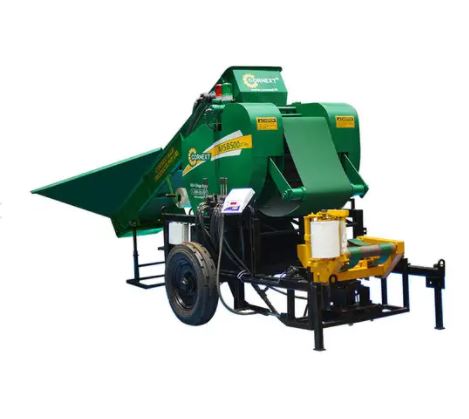 Pin
Features:
Variable chamber
3-Phase Power input
Hydraulic-based semi-automatic system
The HD 1270 is the solution for medium and large farms requiring a high-quality product for livestock feed.
The top feeding system reduces the impurities in the product before it enters into the compression chamber.
​
This​ Machine​ is​ easy to use and maintain with several​ unique​ technical solutions. This is​ combined with the highest manufacturing standard and​ quality of​ materials to operate at every hour of the day, even in the most extreme heat and prolonged use conditions.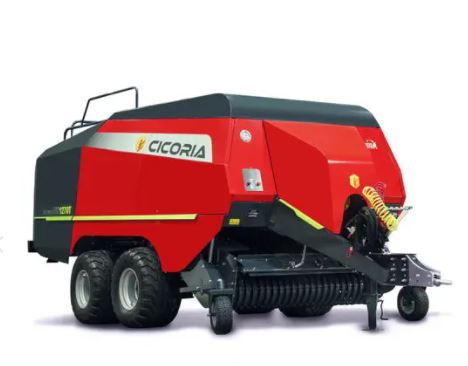 Pin
Features:
Square
Variable chamber
Large
The Fendt Squadra 1290 UD big baler delivers exceptional baling density and efficient output. Its exterior design has ushered in a new look of the Fendt big balers.
This powerful and robust yet lightweight and compact Machine is characterized by its innovative overall design, reliability, and maximum durability based on decades of development experience.
With this first-class top-of-the-range model, the Squadra 1290 UD, Fendt looks to chart new paths. The Machine is fitted with an innovative gearbox and six double knotters combined with a new generation of twins.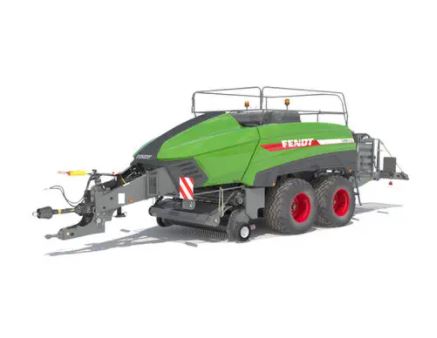 Pin
Features:
Fixed chamber
Square
Ultra™ gearbox
The TGS ferrous metal baler is a terrific heavy-duty, high-production, reliable baling system. The TGS baler utilizes a three compression baling system to produce numerous bale sizes to meet market requirements.
High production and versatility make the TGS baler a profitable performer in virtually any scrap yard. It uses a three-compression baling system with 55 to 180 bales per hour production rates.
The TGS has a built-in shear to make quick work of oversized pieces. The shear knives are secure in the press frame and first compression ram.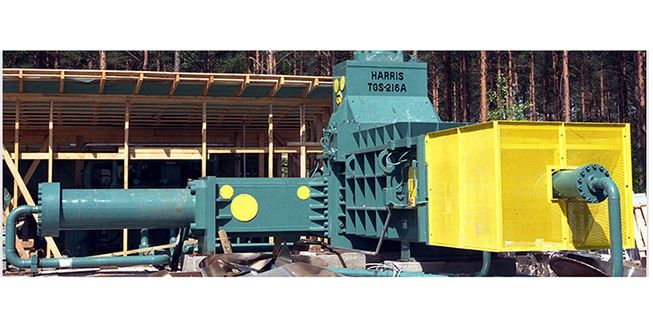 Pin
Features:
Numerous bale sizes
Built-in shear to cut oversize pieces
Small footprint design